Grand Turk Taxi Association Participates in Quality Training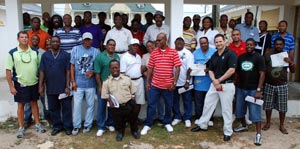 GRAND TURK (April 13, 2010) —The Grand Turk Cruise Center, owned and operated by Carnival Corporation & plc, has partnered with the Turks & Caicos The Department of Home Affairs & Public Safety, Road Safety Department and the Florida-Caribbean Cruise Association (FCCA) to present the FCCA's "Caribbean Taxi Pride Program."

In total 29 members of the Grand Turk Taxi Association attended the training receiving a certificate of "Taxi Pride" upon conclusion of the workshop.

The training program included the use of videos and workbooks to provide hands-on, entertaining and informative instruction that focused on three main areas: courtesy and professionalism, marketing, and safety with the overall objective of showing the taxi drivers how to improve customer service.

Larry Nolan General Manager of the Grand Turk Cruise Center says, "This training will further enhance not only the cruise guest's, experience on the island, but also stay over visitors and the Belongers as well. This is seen as a win, win situation for the visitors, drivers and further promotes tourism in Grand Turk."

When the Grand Turk Cruise Center opened in 2006, it was instrumental in forming the first Taxi Association in Grand Turk. The cruise center also provided the funding for 10 new taxi vans for Belongers to serve the cruise guests and others. Forethought was also given to the construction of a special covered dispatch area for the taxis at the cruise center and plenty of free parking.

As the association's members are routinely seen as the ambassadors of the TCI. It is important that a quality taxi service is provided to everyone. This includes a warm welcome from a knowledgeable driver, in addition to fair pricing, clean, well maintained and air-conditioned vehicles.

The Grand Turk Cruise Center continues to increase vessel and passenger arrival since opening in 2006 and has become a destination of choice in the Caribbean cruise industry. The cruise center is looking forward to hosting over 600,000 passengers this 2010 cruise season.
The FCCA is a not-for-profit trade organization composed of 19 Member Lines operating over 100 vessels in Floridian, Caribbean and Latin American waters. Created in 1972, the FCCA's mandate is to provide a forum for discussion on tourism development, ports, safety, security, and other cruise industry issue and to develop bilateral relationships with destinations' private and public sectors. By fostering an understanding of the cruise industry and its operating practices, the FCCA works with governments, ports and private sector representatives to maximize cruise passenger, crew and cruise line spending, as well as enhance the destination experience and increase the amount of cruise passengers returning as stay-over visitors. For more information, visit F-CCA.com, the FCCA on Facebook, and @FCCAupdates on Twitter.