Do Not Miss This Opportunity…
Meet and Develop Relationships with Dozens of Cruise Executives
Every year we decide which things to keep in our budgets and which things to take out, determining which events and functions are the most effective use of our time, and which ones are not having an impact. Year after year it is a process of evaluation, action and re-evaluation.
Those of you who have already attended the FCCA Caribbean Cruise Conference & Trade Show know the benefits and importance of this annual event for your organization. You are aware that in a few short months nearly 1,000 members of the public and private sectors of the cruise industry will gather in St. Kitts with as many as 100 cruise executives from the FCCA Member Lines.
As the Member Lines of the Florida-Caribbean Cruise Association (FCCA) continue on the fast-track of global expansion, we encourage those of you who have never attended the FCCA Conference to make your move, stop evaluating and secure your place at the most important cruise industry event of the year.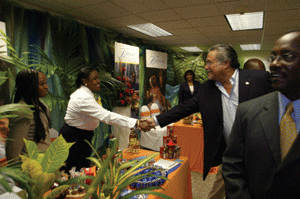 Micky Arison (right), Carnival Corporation, visits one of
the FCCA's Trade Show booths.
The 12th annual FCCA Caribbean Cruise Conference & Trade Show will be held in St. Kitts, September 27 – 30, 2005. The Conference format over the past couple of years has evolved to be extremely successful and will remain essentially unchanged. As in years past, the Conference will provide an avenue for cruise industry partners to come together and exchange information and ideas in the interactive workshops. These roundtable sessions will remain interactive to allow for the opportunity to interact with cruise executives and other delegates with similar interests.

The trade show will once again enable exhibitors to promote their destinations, products and services. In addition to the normal walk-through by attending cruise executives, at this year's exhibition we plan to schedule strategic visits to all booths by executives, insuring that exhibitors have an opportunity to meet with the cruise executives that can best meet their needs.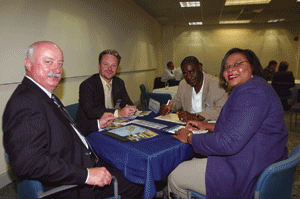 Cruise executives from Carnival Cruise Lines and
representatives from St. Kitts meet at the informal breakouts.
The Conference will also include a business card exchange cocktail party that will allow delegates to meet some of the industry's top cruise executives. As in the past, the informal breakouts (one-on-one meetings) will be featured. They are always in very high demand, as these sessions provide delegates with the opportunity to get to meet face-to-face with the cruise executives of their choice and cultivate new relationships or strengthen existing ones.
The social functions were a major highlight at last year's event in Barbados. This year promises to be no different as St. Kitts is determined to follow suit. The Conference presents upwards of ten meal functions, all of which are included with your registration, that provide all Conference attendees with the opportunity to meet, interact and socialize with all cruise executives and other cruise industry partners.

If you represent a destination, port, tourism agency, port agency, attraction, supplier or tour operation…stop thinking about it, do not miss this opportunity to meet and develop business and personal relationships with dozens of the cruise industry's top cruise executives. The FCCA promises to continue to improve all aspects of the Conference and is confident that this year's event will be the best ever.
Decide to attend, register today by calling the FCCA office at 954-441-8881. The cruise executives from the FCCA Member Lines are excited about the upcoming Conference and look forward to meeting with you in St. Kitts, September 27 – 30, 2005.